ITAY IPACK-IMA SHOW
Views:19 Author:Site Editor Publish Time: 2020-02-25 Origin:Site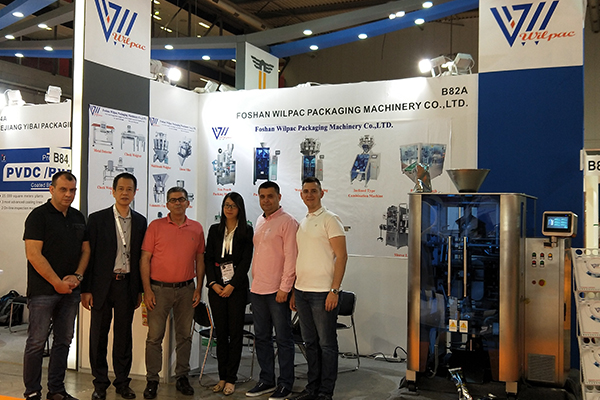 China's packaging machinery since the Industrial Revolution gradually developed, and gradually improve and develop further expand the scope of commodity circulation, range of application packaging machinery industry has become more widespread, the role is also growing. China Machinery Industry Federation is expected from 2011 to 2015, China's food processing and packaging machinery industry output value is expected to exceed 600 billion yuan, an average annual growth rate remained at 16% level.
The food industry is large packaging machinery applications, with the development and expansion of the food industry, food packaging machinery products are entering a new stage of development. Position in the food packaging industry an important industrial areas, with the market demand is also pursuing the development of more depth.
However, can not be ignored is that China's packaging machinery industry started late, rapid development model of development, resulting in a weak foundation of China's packaging machinery development, product quality is not high, quality, safety, technology, efficiency and other aspects of the situation are not in place. Currently engaged in the production of food and packaging machinery enterprises amounted to about 7000, but more than 95% of small and medium enterprises, private enterprises, and the geographical distribution of the difference between the eastern and western big, concentrated in the Pearl River Delta and other economically developed areas, many enterprises with independent R & D capabilities only a small number of high-end packaging machinery products is rare. Most small companies are imitating the large enterprise product packaging machinery, almost no innovation.
It is understood that the United States is currently promising packaging machinery are: horizontal pillow microcomputer control and is equipped with servo motor and power good film tension control device packaging machinery, the future of microelectronics, computers, industrial robots, intelligent image sensor technology and new materials in packaging machinery will be more widely used, packaging machinery development towards increasingly automated, high-efficiency, energy-saving direction. Developed countries have put nuclear technology, microelectronics technology, laser technology, biotechnology, and systems engineering into the traditional mechanical manufacturing technology. The new alloys, polymers, composite materials, inorganic non-metallic materials such as new materials have also been popularized.
And China's packaging machinery over-reliance on foreign high-end technology, has seriously hampered China's packaging industry sustained and stable development. At present, food packaging machinery increasing competition, the future of food packaging machinery will be coordinated with the industrial automation, improve the overall level of packaging equipment to promote the development of multi-function, high efficiency, low consumption of food packaging equipment.
High-end technology products compete on contemporary food packaging machinery technology development. Present in the food and packaging machinery is widely used in high-tech, with the basic features of high intelligence, high efficiency, high competition and high effectiveness. Due to the continuous application of a variety of high-tech, so greatly promoted the development of national food and packaging machinery industry by continuous production instead of batch production of specialized production replaced by generic production, replaced by large-scale production of small and medium production controlled by the full quality of the final product instead of quality control, etc., to achieve a continuous production of food processing and packaging processes, specialized operations, automated adjustment, full control and industrial ventures. These technological leap, mainly played an important role in the high-tech applications, this effect more remarkable.
Domestic packaging machinery products to high-end upgrade also facing great difficulties: the independent innovation capability is not strong, rely on advanced technology abroad; vicious price competition, product duplication and plagiarism is widespread; infrastructure development is lagging behind, basic parts, automation, intelligent control systems and test equipment, machining and manufacturing equipment lagged behind the development of the host. Want real domestic packaging machinery products to high-end development, the first also to overcome these problems.