Features and advantages of ice cube bag packaging machine
Views:0 Author:Site Editor Publish Time: 2021-06-12 Origin:Site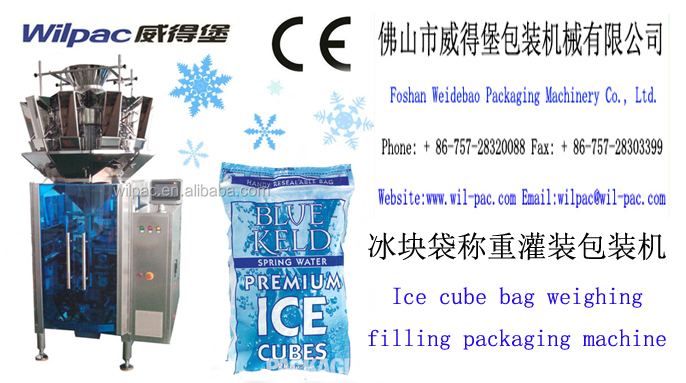 With the improvement of material living standards, there are more and more types of food and various daily items. Various industries have begun to use automatic packaging machines to improve production efficiency. So what are the characteristics and advantages of automatic packaging machines?
1. Features of ice bag packaging machine:
1. Equipped with safety protection, in line with corporate safety management requirements.
2. Using intelligent temperature controller, temperature control is accurate; packaging and sealing is beautiful and smooth.
3. The use of PLC servo system, pneumatic control system, and large display touch screen constitute the drive control core; it greatly improves the control accuracy, reliability and intelligence of the whole machine.
4. This machine and metering configuration can automatically complete all the packaging processes of metering, feeding, filling and bag making, date printing, inflation (exhaust), and finished product delivery, and automatically complete counting.
5. The touch screen can store the packaging process parameters of a variety of different products, which can be used at any time when the product is changed without resetting.
6. Equipped with a fault display system to help troubleshoot in time when a fault occurs.
7. Pillow-shaped bags and hanging bags can be made according to customer needs.
8. There are all stainless steel models and carbon steel sprayed models to choose from.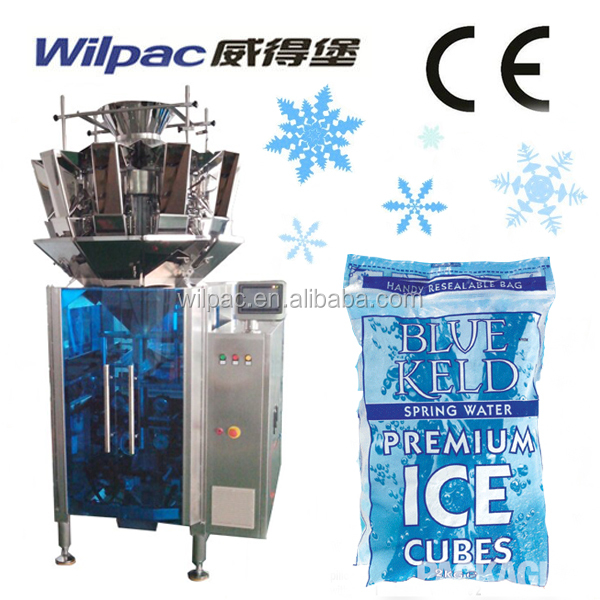 2. Advantages of ice cube bag packaging machine:
1. High weighing accuracy
The weighing value of each quantitative packaging machine is set, and the intelligent system starts to work after the machine starts running, with small errors.
2. Fast packaging
Hundreds of packages can be packaged per hour, which is much faster than manual packaging. Manual labor has discontinuity, and the machine will not feel tired. It is always maintained at this speed for packaging.
3. Stable operation
All components are made of regular products from well-known manufacturers, and the probability of failure is very low.
4. Good reliability
The machine is equipped with a protection device, the internal coil voltage is 24v, and the entrainment mechanism will only start to work after letting go of the induction rod, and it will not cause any harm to the workers who operate the machine.
5. Easy to operate
The operation interface is simple and clear. You only need to press the corresponding button and the machine can run. Workers who don't have any basic operation can get started quickly.
The above is the description of the characteristics and advantages of the ice bag packaging machine, for reference only!